Dutchess BOCES Adult Learning Institute • One Civic Center Plaza, Suite 300
Poughkeepsie, New York 12601 • Phone 845-483-3640 • Fax 845-483-3641
Email: ali@dcboces.org
Dutchess BOCES Adult Learning Institute (ALI) is OPEN.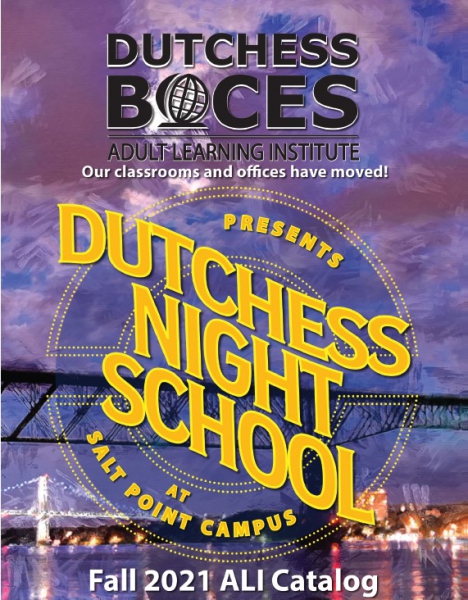 ALI's new offices at the Administration Building on the Salt Point Campus are open and on track for the start of courses in the fall. Literacy classes will be offered in two classrooms at Salt Point Center, with orientations offered on Mondays at 9 a.m.
In-person, evening trade classes will resume the week of Sept. 20 at the Career and Technical Institute.
See the Fall 2021 ALI Catalog and call 845-483-3640 for information or to register for classes.
CAREER TRAINING PROGRAMS
The Nursing Assistant (NA) and Heating Ventilation & Air Continuing (HVAC) classes that were put on hold in March are back in session. New sessions will be starting soon. Call us at 845-483-3640 ext. 6108.
If you have a scheduled class or appointment at ALI, please plan to arrive no sooner than 10 minutes at the Suite Entrance, there is no longer a seated waiting area.
Students are required to take a simple COVID-19 questionnaire at entry. Face coverings are required when entering and throughout the time you are in class. In addition, we practice Social Distancing.
LITERACY PROGRAMS
Ongoing preparation for High School Equivalency is available through our online format. Please call Chris Thomas – 845-483-3640, to register into a class. Chris also assists individuals with the registration for the TASC test, the New York State Department of Education approved test to obtain a High School Equivalency diploma. She will be able to walk you through the process.
In classroom offerings will slowly become available again, please check back for updates.
ESL classes are being offered online and an in person class is coming soon to our location at One Civic Center Plaza in the City of Poughkeepsie. Questions? - please call 845-483-3640.
The North River Academy for Adults, our ESL/Nursing Assistant program is currently completing our students who were paused. A new class will be formed in early 2021. If you have questions please call Laura Melville at 845-483-3640 ext. 6122
We are working diligently to maintain your health and the health of all the staff here – Thank you for your patience.
Vision
Dutchess BOCES Adult Learning Institute will be viewed as the premier educational and support services provider for our community, public and private agencies and employers.
Mission
Offer the best life-long learning opportunities and services to our community to enhance personal and professional development leading to improved quality of life.
Dutchess BOCES has one of the most diverse and comprehensive educational programs of any BOCES in New York State. The Adult Learning Institute is a major component of BOCES, serving residents in Dutchess County, and throughout the Mid-Hudson Region.
Adult Learning Institute Divisions:
The main goal is to serve community needs. The focus of our program is to encourage individuals to "UNLOCK THEIR POTENTIAL" through lifelong learning. Classes are offered during the day. Courses offered assist community members to upgrade current job skills, prepare for new careers and grow personally and professionally. Our offerings range from courses providing highly technical skills to classes promoting general interest and self-development.
Our traditional continuing education classes are offered at the Career & Technical Institute (CTI) on Salt Point Turnpike. Courses include classes in most of the trade areas: automotive, bartending, welding, carpentry and many others.
Adult Learning Institute Courses

Driving Related - Currently Unavailable