by

School Library ...

Jun 16, 2017
What do high school students need in order to prepare for college-level research?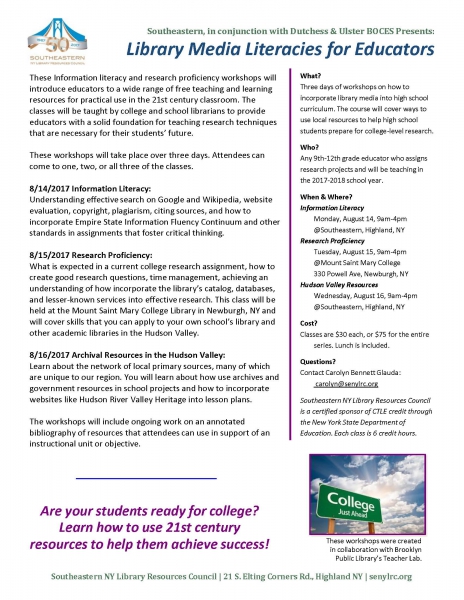 Classroom teachers are encouraged to sign-up for a 3-day (August 14-16) Media Literacies workshop that is being co-sponsored by the Dutchess & Ulster BOCES School Library Systems and Southeastern NY Library Resources Council.  Taught by school and academic librarians, the workshops will provide participants with the ability to:
Make a connection between a high school research assignment and a college assignment

Develop an understanding of how information on the internet is made available to the end user

Develop an understanding of how to find factual information online

Explain why citation matters and how to teach students about plagiarism

Develop an understanding of how to ethically use and share materials in classroom work

Identify the important information contained within a research assignment

Utilize strategies for narrowing down broad topics

Identify research tools that go beyond internet searches

Identify the variety of resources available in a college library

Apply what they learned at their school's library

Understand how to use document-based research in creating a classroom assignment

Practice using the Hudson River Valley Heritage website

Create a bibliography that includes HRVH resources
Attendees can come to one, two, or all three of the classes.  The sessions are $30 each, or $75 for the 3-day series.  Registration for each day is available on MLP:
Day 1 - Library Media Literacies for Educators Series: Information Literacy
Day 2 - Library Media Literacies for Educators Series: Research Proficiency
Day 3 - Library Media Literacies for Educators Series: Archival Resources in the Hudson Valley
Share the flyer with your classroom teachers!