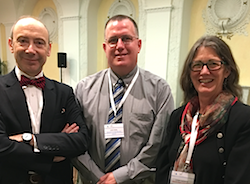 A Dutchess BOCES teacher was flown to Rome, Italy last month by the World Health Organization (WHO) to participate as an expert in the first International Conference on Standards of Visual Rehabilitation.
John Kelly (pictured center)*, a teacher of the visually impaired, was nominated and selected to be one of only 60 professionals from around the world to participate in the Conference based upon his reputation for educating the blind and visually impaired.
"We assisted the WHO in drafting standards that will be used to provide governments world-wide a baseline expectation of care in the medical, rehabilitative and academic realm," said Kelly.  "My role was to help them understand the needs of children and young adults in areas such as functional vision assessment, literacy, Braille, and mobility. It was quite an honor to be selected."
The Conference was held December 9-12 and 25 countries were represented.  The experts assisted the WHO in compiling a report and guide for basic standards for low vision rehabilitation from referrals within medical systems to the broader rehabilitation system, including home and school based independence and academic learning.
Worldwide there are 285 million people with a severe visual impairment that prevents normal daily function and drastically reduces the quality of life.  Currently, there are no recognized international standards of care.  The WHO has established an action plan to prevent blindness by 25 percent by 2019 and to establish standards of care.
Kelly joined Dutchess BOCES in September 2015 and works with a varied caseload, from elementary to high school aged students.  He serves as a teacher of the visually impaired and as an orientation and mobility instructor.  He is a past adjunct faculty member of Dominican College and owns John J. Kelly Vision Consultants.  He was a recipient of the George E Keane Award for teaching and leadership
All of Kelly's expenses were paid by WHO, who was granted a special leave from Dutchess BOCES to attend.
"It's an honor for BOCES to have a staff member who is in demand as an expert for the World Health Organization," said District Superintendent Dr. Richard Hooley.  "We are pleased John was able to share expertise beyond our classrooms to help people around the world and congratulate him on his fine work."
* Meeting with Dr. Silvio Paolo Mariotti, Prevention of Blindness and Deafness office, World Health Organization, Geneva, Switzerland and member of the Core Scientific Committee of the symposium; John Kelly, Dutchess BOCES Teacher of the Visually Impaired; Dr. Linda Lawrence, Pediatric Ophthalmologist, and member of the International council of Ophthalmology and the American Academy of Ophthalmology, Salina, Kansas