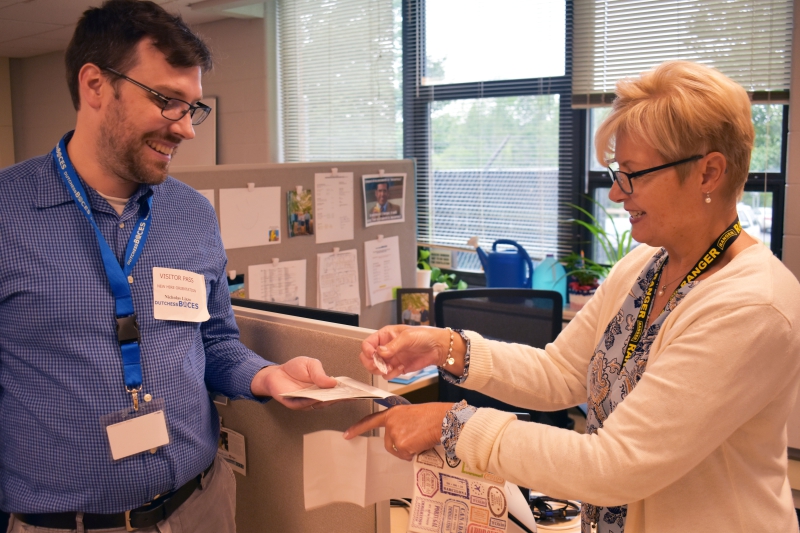 The Dutchess BOCES administrators welcomed about 60 new staff members at the New Hire Employee Orientation, an annual event put together each year during Administrators' Week by the Human Resources division.
"It's very important that employees know the organization in which they're joining," said Dr. Norah Merritt, Assistant Superintendent for Human Resources at Dutchess BOCES. "I think it's not only an opportunity for us to share important information, but also a way for us to learn about them, their interests and perhaps why they joined our agency.
"For me, the most important thing that they understand is we are an agency that is about teaching and learning, and supporting component school districts with services."
The event was held for the first time in the new conference center, and administrators welcomed new employees hired during the 2022-2023 school year and some who are starting in their positions in the 2023-2024 school year.
"You're sitting in one of the nicest centers in the county and the newest," said Jason B. Schetelick, District Superintendent for Dutchess BOCES in welcoming the new staff.  He highlighted the unique opportunities BOCES offers to help students enhance their skills as they move toward career and college.  Hands-on learning and internship experiences let BOCES students excel after high school, he said.
New staff members joined administrators for lunch before participating in the orientation, which started with the administrators standing introducing themselves to the new staff. Administrators later spoke to the new employees about themselves and what their offices do and how they may assist employees. 
New employees had the opportunity to meet and interact when groups were formed to discuss topics such as data privacy, technology, defined benefits plan and the employee handbook. A new employee was assigned to deliver a short presentation.
"I really enjoyed the orientation. I learned a lot of valuable things, like how the Regional Certification Office works," said Tom Morris, a new public information officer.  "I don't think I would have known about it otherwise. I also met a lot of interesting people. It's nice to know that there's people who are newer to BOCES that are in my corner if I need help."
To learn the campus, new employees were each given a passport booklet, campus map and list of seven people and offices where they may pick up destination stickers for places such as Canada, Greece and the Bahamas.
The group met briefly in the conference center for closing comments by Merritt before being dismissed.
"The human resource office is there for them," said Merritt. "We work for them. We want to help them, any new employee or any employee for that matter. If they need help in any way, shape or form, they should call us."