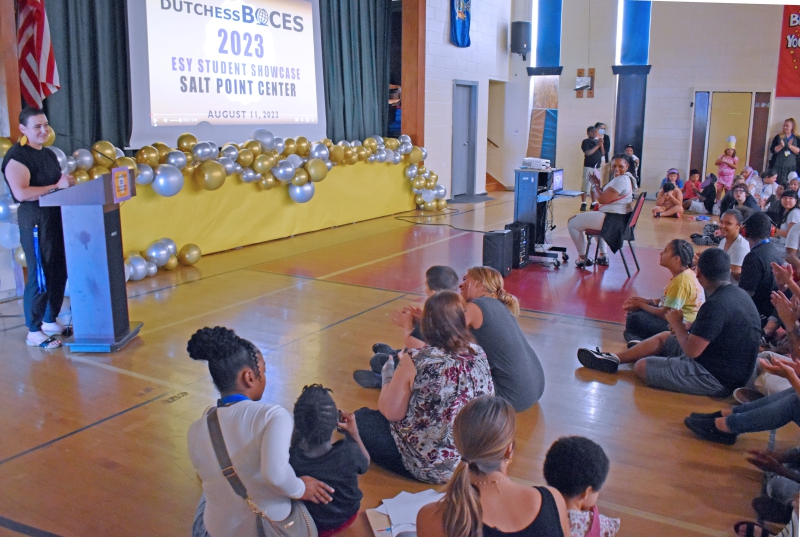 The Extended School Year Program (ESY) at Salt Point Center celebrated the end of the summer program on August 11 with students proudly showcasing what they learned through vibrant displays all around the hallways of SPC.
Doting parents had a lot to see and learn.  Visitors were greeted with a program listing the student presentations before they began a gallery walk. 
Ms. Fitzmaurice stood in the hallway holding class pet, Levi, a Leopard gecko. While the students introduced Levi to the guests, their student-created presentation about Levi and Leopard geckos played on a laptop.
Multiple presentations, a photo wall and a snack table packed and served by students in the Pegasus Program filled the halls. Near a bulletin board with colored images of Frida Kahlo, students handed out tissue paper replicas of her signature flower crown.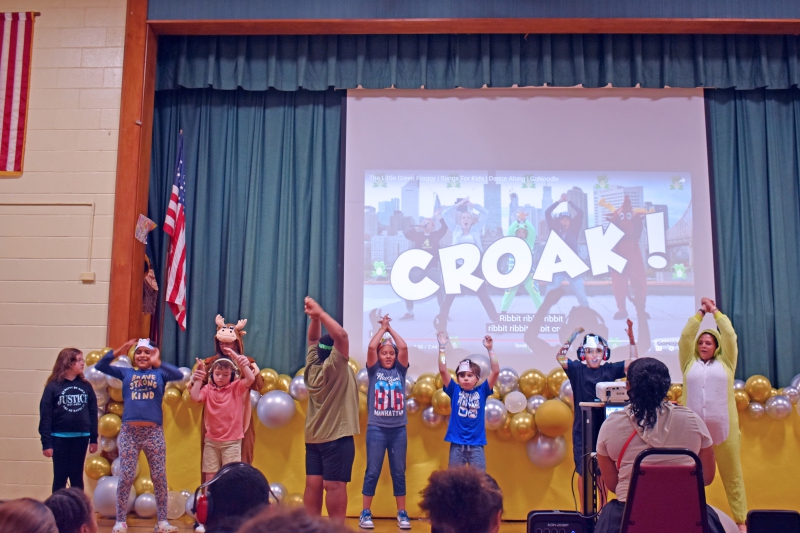 Mr. Susso's class showcased a project about food and farm to table initiatives.  Students presented the herbs they grew and served salsa and hot corn fritters, made with the herb,s as snacks.
Other classes showcased their work with a performance.  In the gym, where the stage was decked-out in 300 balloons, a step-by-step how-to video on making the slimy substance Oobleck, was shown.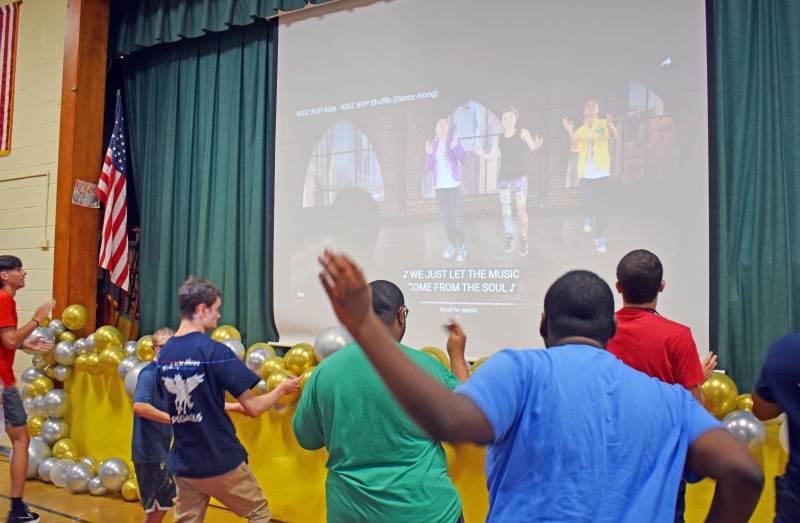 Ms. Peters and Ms. DiMarco's students, performed the call and response positive affirmation song by Snoop Dogg and Doggyland.  The big finale was Ms. Rivias' high school student leading the Kidz Bop Shuffle.  The entire gym was on their feet, sliding to the right and crisscrossing their legs.
MaryEllen Jones, came to see her daughter Diamond Nelson.  "I think it was great. It was so cute seeing all the kids dancing. They worked really hard," she said. Her daughter has been attending the program since kindergarten.  "She's been here for a while and they have helped her overcome a lot," said Jones. "She's come a long way."
Student Noah Murray praised his time in the program. "I learned about a lot of things, including math, ELA, and syllables," he said. Murray also enjoyed the activities. "I have fun here. One of my favorite parts is free time and going to the gym." The Friday PBIS activities held on Fridays were popular with all students. 
ESY and SPC Principal Melissa Murphy praised the students. "Our showcase is a highlight of the summer and it is always amazing to wrap-up the program celebrating the students and how hard they work," she said.  Murphy explained that this event highlights academic achievements and builds community.  "The program goes so quickly, I am always thinking about how to make the next summer even better when we are done," Murphy said.