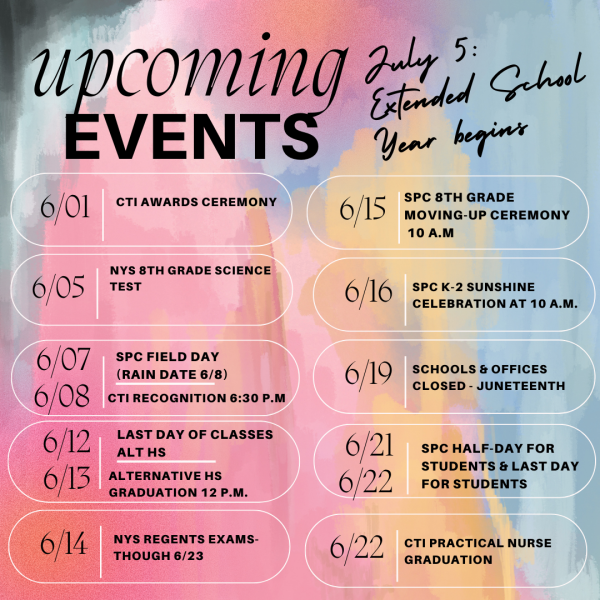 The 2022-23 school year has less than a month to go.  Please mark your calendars for these important events.  We look forward to celebrating your children's accomplishments.
 
The Alternative High School
June 12: Last day of classes
June 13: Alternative High School Graduation 12 p.m. in the Conference Center
June 14-23: NYS Regents exams
The Career and Technical Institute
June 1: CTI Awards Ceremony 9 a.m. in the Conference Center
June 8: CTI Recognition 6:30 p.m. parking lot
June 22: Practical Nurse Graduation
Salt Point Center - please note event invitations will be sent by the school
June 5: NYS 8th Grade Science Test (written) 
June 7: SPC Field Day (rain date 6/8)
June 15: SPC 8th Grade Moving-Up Ceremony 10 a.m. at SPC
June 16: SPC K-2 Sunshine Celebration at 10 a.m.
June 19: Schools & Offices Closed - Juneteenth 
June 21: Half-day for students
June 22: Half-day & last day for students
July 5: Extended School Year begins at SPC