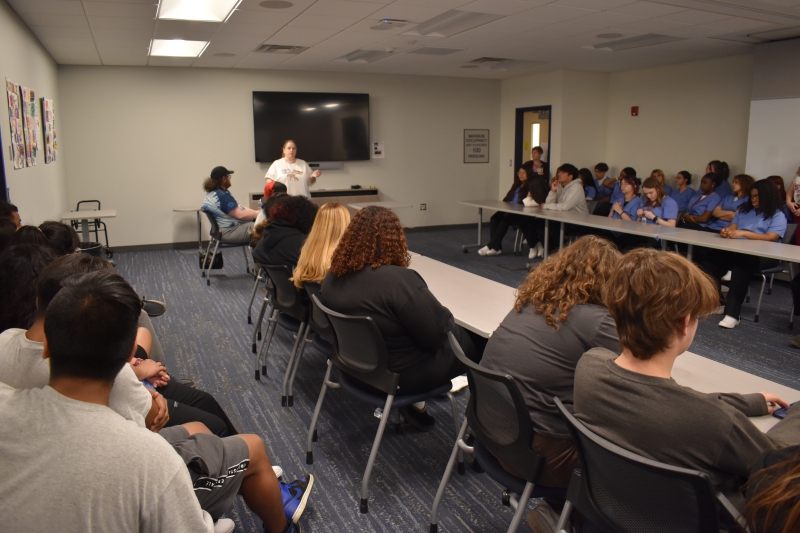 In the first of many measures to bring more equity to the LGBTQ (Lesbian, Gay, Bisexual, Transgender and Queer) community, Dutchess BOCES' Career & Technical Institute invited Dutchess County Pride Center Executive Director Karen Marder for two talks on May 10 to highlight the center's services and to speak about LGBTQ matters.
Marder was encouraged by friends to start Dutchess Pride in 2018 after her son James came out as transgender and saw there were more families reaching out to her for advice regarding their children coming out as gay and nonbinary.
"There was no support outside of people trying to support us, but not knowing how to," Marder said. "We saw a need in the community and decided that we were going to be the ones to meet that need."
The center offers support groups for LGBTQ youth and adults, as well as events throughout the year such as a Rainbow Prom, bowling nights and hiking expeditions.
"We're trying to create safe spaces for queer folks to meet," Marder explained.
TV & Film Production Instructor Justin Brown highlighted the importance of finding common ground regarding LGBTQ matters with Marder responding that people in the middle of the political spectrum can evolve once they learn more about the community.
"When somebody sees you stand up, they'll be more likely to stand up," Marder said. "You're inadvertently educating everybody else that's listening."
Health Occupations Instructor Christine MacNeil noted that students in her program, as well as those in Security & Law Enforcement and Early Childhood Education are obligated to help the LGBTQ community feel safe regardless of their personal views.
"You do need to open your minds to understanding what people are going through," MacNeil said. "As a profession, it's our responsibility."
A second year graphic design student who identifies as a transgender male, appreciated having the forum to speak freely about LGBTQ matters, which to him was almost therapeutic.
"I liked that I could ask anything without feeling judged," he said. "It's nice automatically having that acceptance."
A first year health occupations student appreciated Marder's knowledge of LGBTQ matters, particularly those of the transgender community. She was also intrigued by the idea of BOCES starting
a Gay-Straight Alliance club that she could more easily attend. 
"We each have our own GSAs at our own schools, but we can't go to them because we have to go here," she said. "Having one here would be good."