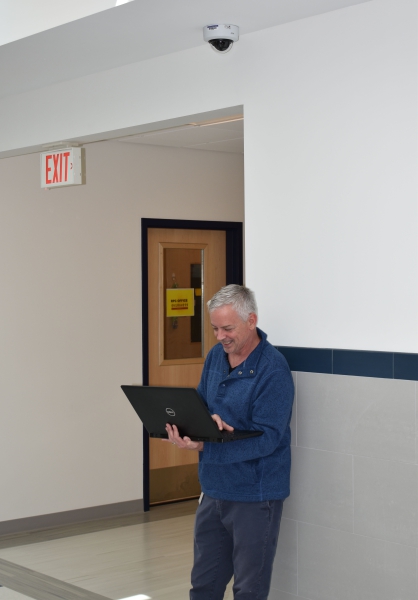 Jaime Keener said the installation of 107 security cameras around the Dutchess BOCES campus is in the final stages.
"I like this system. We will benefit," said Keener, an instructional systems research specialist at Dutchess BOCES. Live or recorded video may be seen with the security cameras.
Cameras are located inside and outside the administration building and three campus schools—Career & Technical Institute, Alternative High School and Salt Point Center. Adirondack Cabling and Security, based in Albany, was hired to wire the buildings and mount the security cameras.
"It has been a lot of work, but it is important work and a priority for us. When complete, this project will contribute to the safety and security of our 'One Campus,''' said Mark Stein, director of technology.
Some supply chain issues did cause some delays, he said.  A variety of camera models were selected to customize the views of different locations and some were not immediately available. Some are multidirectional with nearly a 360-degree view and others are focused specifically on one entrance or area.
Stein praised his staff for working diligently on the project while also handling all of the technology needs related to the capital project, the needs of BOCES students and staff. "They really pulled together to move all of the work forward during an incredibly busy time," he said.  "It's rewarding to see the results.'
A separate element of the Agency's security effort is a visitor management system called Raptor.  It is in use at the entrances of each school building. A receptionist scans any visitor's driver's license into the system to ensure it is safe to allow the guest into the building.
This project began in 2022 with walkthroughs of all the buildings, attended by staff from learning technology, facilities, cabinet members, and building principals, to identify the appropriate locations for security cameras.
"The vendor proceeded with wiring of the buildings at night, and then mounting the cameras also after classes dismissed," said Stein
Stein credited Keener and Rudy Accardi, instructional systems research specialist, for their roles in working with the vendor and configuring the network for the cameras to be connected.
"We've gone enterprise level with our security camera system and we are prepared to meet our present and future needs," said Stein.