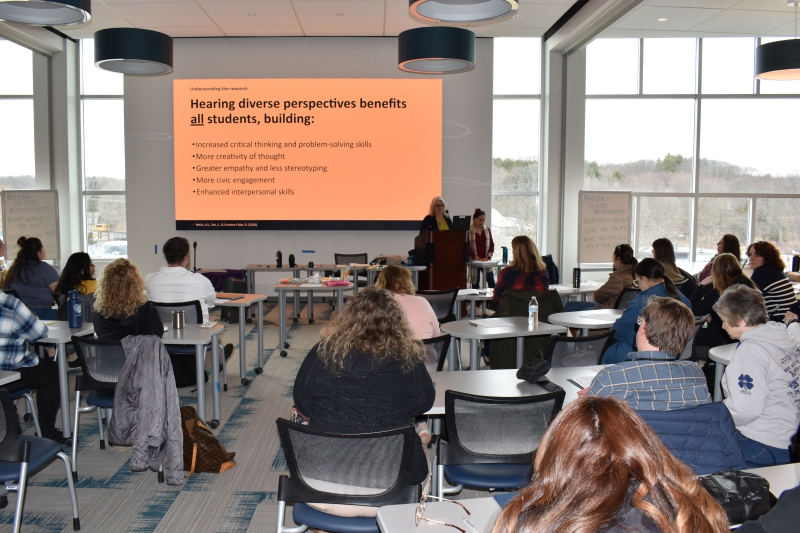 Superintendent's Conference Day was filled with opportunities for staff to develop different strategies and skills to use in working with students.
The conference featured schedules for Salt Point Center, Career & Technical Institute, Alternative High School, building nurses, in-district instructors and related services.
Rebecca Green, executive director of educational resources at Dutchess BOCES, was the presenter for SPC's curriculum writing, which targeted ELA classroom teachers in grades four through eight; and CTI's introduction to the next generation learning standards for ELA, which was for high school administrators.
"We want to make this a place where students can come, grow and feel accepted, and the teachers have different strategies and skills to move them forward," she said.
At SPC, art teacher Marla Fasano presented Sensory Integration: Neurographic Art, where participants designed their own Neurographic artwork, a form of art utilizing mindfulness and intentionality that was created in 2014 by Russian psychologist Pavel Piskarev.
Joshua Steinfeld, a staff specialist of the Mid-Hudson Regional Partnership Center at BOCES, was the presenter of CTI's first program of the day – team building.
His presentation had two exercises. The first had everyone pulling on yarn to show they were all connected. The second had everyone select two people in the room with the goal being the three people remaining equally distant from each other as they moved around to demonstrate stability will come, even if things seem chaotic, if all individuals as a community do their part.
"I felt it went very well," he said of the exercises. "Everybody participated." Steinfeld added that the training likely had a different meaning for different people.