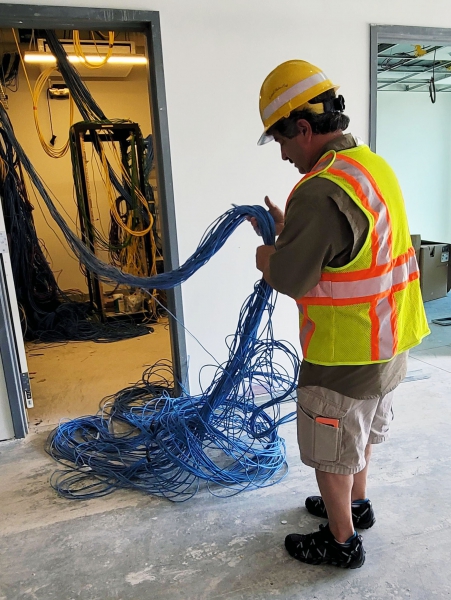 While construction crews are working on completing the structure for Dutchess BOCES new campus, BOCES' IT department is hard at work inside the building so that once construction crews finish they'll be able to install phones, computers, and wireless access points in the classrooms and offices.
This huge undertaking is in addition to the typically busy summer workload of updating computers and providing various types of IT services to all of our member school districts.
Director of Technology Mark Stein said summers are always busy for the department because they can perform tasks with less impact on teachers and students.
This summer IT moved equipment from the old BETA location on Dutchess Turnpike to the new campus and were able to surplus a lot of aged equipment.
Then the work began to prepare the new building in addition to supporting BOCES and all 13 component school districts.
Two microcomputer network support specialists, Albert Alvarez and Steven Reiche, were hired to help provide shared technical services to Poughkeepsie City School District three days a week. The other two days they support BOCES.
Instructional System Research Specialist Rudy Accardi and Telecommunication Technician Fernando Zambrano have been spending a lot of time at the new building. They are terminating connections in the IT closets, meeting weekly with electric contractors, and coordinating with the facilities department which will install the TV and phone brackets IT needs to place equipment.
There are 600 wires that need to be terminated in two closets. Accardi and Zambrano have to reference the labels applied by contractors and match them to plans they have to make sure the right line goes to the right room. Whenever they work with a batch wires, they must first stretch them out fully. Then, they can put jacks on.
"We can do about 60 per day, 30 each," Accardi said, adding that it takes about an hour just to stretch the cables out.
Assistant Director of Technology, Steve Healy is working with technicians on the reimaging of devices and creation of student IDs.
"We're at the most personnel we've ever been," Stein said. "The department has 16 people but is looking to hire a 17th person to be at full capacity."
"It's a combination of growth in our district services and our own," Stein said, adding that his team now has shared technicians at BOCES, Poughkeepsie and Webutuck. The department also has a full-time Data Privacy Specialist, Carol Matthews, who provides services internally and externally.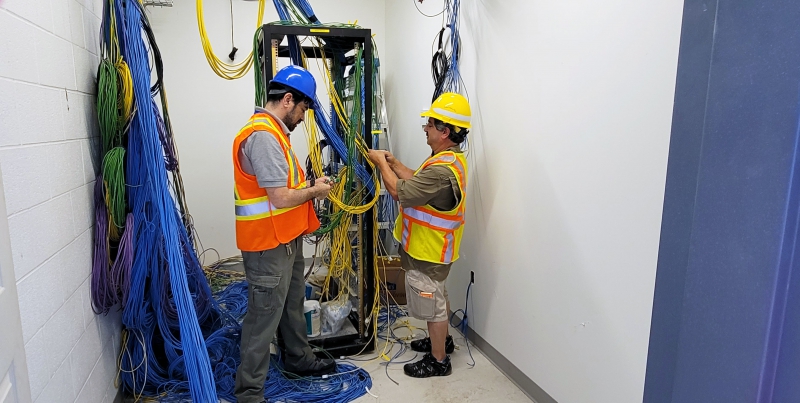 Cybersecurity focus
This year BOCES has several things planned to strengthen cybersecurity.
"We established a Cybersecurity Governance Committee to build a culture of cybersecurity awareness throughout the agency," Stein said.
Several member districts have contracted with BOCES for cyber risk management services including Dover, Rhinebeck, Red Hook and Webutuck. "This service provides help in identifying cybersecurity risks and gaps, developing a plan to mitigate those gaps, and helping them prioritize their systems and developing the required documentation," Stein said.
published August 24, 2022