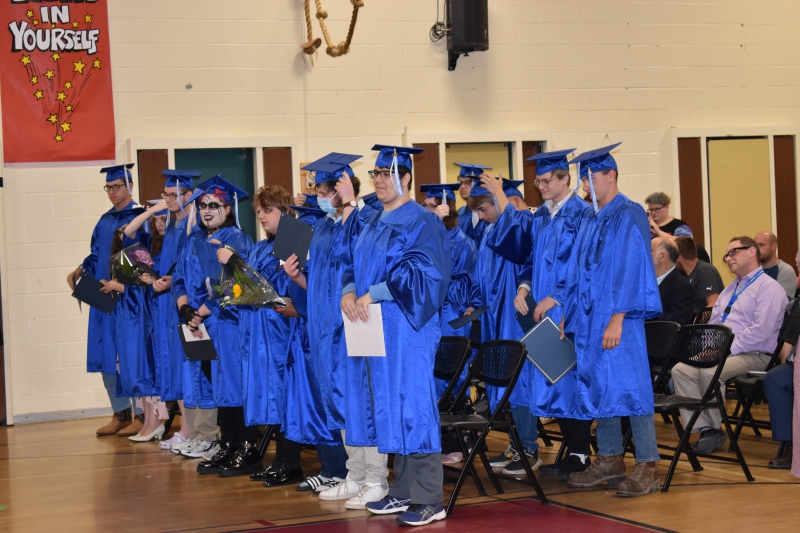 Thirty-five students from the Alternative High School and In-District Program graduated June 22nd  during a ceremony that honored their perseverance and resilience.
"Our school community had to flex and overcome obstacles, "said Principal Erin Piquet, referring to COVID challenges, remote learning, moving to new buildings after Spring Break, and postponing the graduation ceremony.  "You have modeled for us all strength, perseverance and joy."
She congratulated the students for their success and she thanked families for their support.  "We couldn't do this without you."  Piquet also recognized the staff, Astor staff, Facilities staff and IT staff for their support throughout the move.
District Superintendent Jason Schetelick encouraged the graduates to focus on the climb not the destination as they move to the next phase of their lives. "Congratulations to all of the graduates of 2022," he said.  "This has been a journey to say the least.  You should be proud of yourself."
Numerous scholarships and awards were presented, acknowledging the personal struggles that were overcome throughout high school.  Many thanked their teachers and counselors for the support that made graduation a reality.
"Three years ago if you told me I would be here today, I would not have believed you," said student speaker Joe Urbanowitz.  "But I learned new techniques, completed 13 courses in a week, earned my Eagle Scout, and enrolled in the Cosmo program at CTI.  This was one chapter of life.  We all have a new start."
Spencer Fields, another student speaker, learned in February that he may need to consider other options to graduate in June. However, he worked extremely hard and successfully completed the remainder of his year.  The Alternative High School program helped bring his anxiety under control and helped him become more accepting of himself.  "Always be yourself," he said.  "Don't worry about pleasing other people.  You only need to worry about pleasing yourself."  He also credited his sister for unwavering support.
"The best part of graduation is that if you get through here, you can do anything," Agustin Heaton said.  "Focus on the positive, not on the negative.  Life doesn't get easier.  You adjust to it."