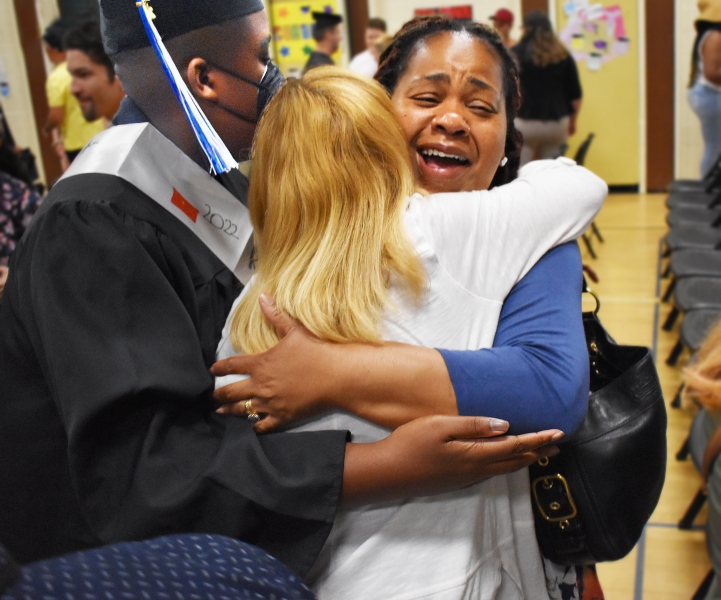 Family, friends, and Dutchess BOCES staff celebrated the 19 eighth grade students who completed their studies at the Salt Point Center with a touching ceremony June 14.
After thunderous applause during the processional, the audience was treated to poetry, readings, a video montage and inspirational words from administrators.
Principal Melissa Murphy congratulated the students, noting their many accomplishments.  She encouraged them to realize this moment was one of life's milestones.  "I hope you live your life with joy and meaning," she said. "Let me remind you, the best is yet to come. Be well"
Deputy Superintendent Dr. Jodi DeLucia shared that she would always visit to the school to "fill her cup."  She thanked the students for being a source of happiness and inspiration. She advised them to smile every day, to be kind, and to make time to be outdoors every day because "you're never too old to play."
She told them they were all strong and smart and encouraged them to make good choices.
"Look forward to your future because that is where your dreams lie," said DeLucia.
District Superintendent Jason Schetelick shared "the secret of life" during his remarks.
"The secret of life's success is you want to start by liking yourself and moving toward loving yourself," he said.  "The most important thing is that you love yourself.  Work on loving yourself every day and it will make you a happy and successful person."
He also acknowledged the staff for planning a very special recognition event. 
Another highlight was a special tap dancing performance coordinated by Kathy Muenz, SPC's dance teacher.  Juan Gonzalo and Markus Louis brought down the house with their choreographed moves to the song "We're in the Money" from "42nd Street."  They took a deep bow before the appreciative crowd.
The ceremony closed after Murphy presented a surprised Violet Spence with the TEG Federal Credit Union $50 Award for Academic Achievement.  After the recessional, proud families shared hugs and posed for pictures.