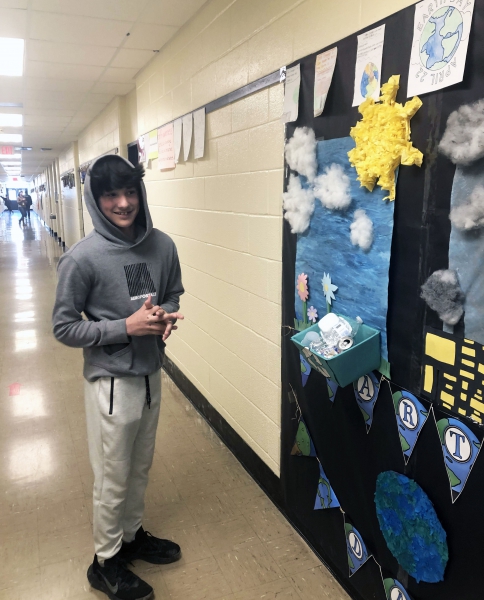 April has been a busy month for the students and staff at the Salt Point Center (SPC), where learning about the environment in honor of Earth Day and Arbor Day has taken center stage.
"They have worked hard and are very proud of their projects," Principal Melissa Murphy said.  "Every class participated including our STEAM and art classes."
Murphy said students of all ages learned that the Earth is their home and that they need to be careful in how they treat nature and the environment.  All of the hallways are filled with creative projects touting the benefits of recycling, controlling pollution, caring for nature, and planning for the future.  Many of the projects incorporated the use of recyclable materials such as egg crates and water bottles.
One class used empty paper towel rolls to build trees and painted water bottles to turn them into colorful fish for their display titled "Save our Earth every Day."
"You can use recycled things and turn them into art," said Evan Clinton.  "Recycling can help save the Earth."
Another class wrote about changes they can do to make the environment better.  That display had a "before" scene where dark gray smoke billowed out of chimneys creating a haze in the sky.  The "after" scene depicted a world after people began recycling more and it featured a bright sun and a three-dimensional recycling bin filled with bottles.
Art teacher Marla Fasano's practices were a perfect example for the children.  Instead of throwing away markers that seem to be out of ink, Fasano puts similar colors, like blue and purple, together with caps off into a container filled with water.  After a week or two, she has "recycled" paint for students to use on projects.  Her classroom cabinet is filled with a variety of colors to choose from.
In fact, 80 students from SPC entered art to State Senator Sue Serino for the New York State Earth Day Poster Celebration.  Each child received a personalized certificate thanking them for their participation and images of their submissions are displayed on Serino's website.  Click this link to view the art work. https://bit.ly/3KnFW4U
"This year we received many outstanding posters that exemplify the creativity of the young people in the 41st Senatorial District," Serino said. 
"Each entry from my District displayed tremendous originality and vision, as well as obvious concern for the ecological future of our communities and our state.  I encourage you to continue to study and learn more about the serious challenges that face our environment."
Serino also thanked the teachers for their dedication and for providing the students encouragement to participate.