Nine students from Dutchess BOCES' Career Technical Institute are ready to compete at the New York State SkillsUSA Leadership and Skills Championship in Syracuse from April 27 to 29. CTI Principal Nick Millas will join the students to show his support.
They will travel by school bus to the event.  Annabel Bomba, who won third place in the Cosmetology Senior category at the regional championships will take a written exam, do a short and long haircut and a long hair updo style, which involves the hair being up and out of the face.
"Hopefully I do well, I've just got to remember to breathe," Bomba said with a laugh. "I have been trying to get everything set up."
Cosmetology Instructor Sharon Myers praised the participating students for their dedication in their respective classes.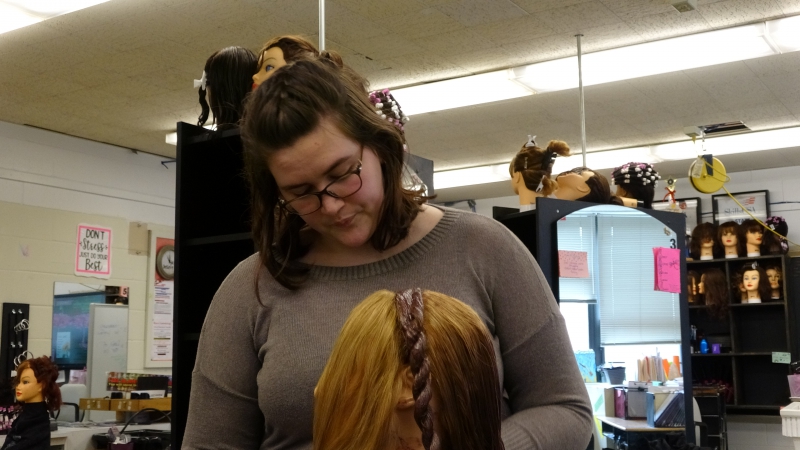 "The only thing we expect from them is the best they have," Myers said. "As long as they're putting in to work what they've learned and they stay with integrity, that's all we expect."
Culinary junior Aurora Tompkins will have to bake chocolate chip cookies, chocolate chip scones and yeast rolls, as well as decorate a two-layer cake in the Commercial Baking portion. Even if Tompkins does not win, she will be prepared for future competitions.
"It's just another opportunity to practice so I know what to do next year," Tompkins said. "My little brothers are super excited for this."
In the Culinary Arts portion, Ashley Kayse-Hughes has to make knife cuts for salad preparation, tear apart a whole chicken in 15 minutes and then make a dish with it. For Kayse-Hughes, the competition will get her accustomed more to a high-pressure kitchen environment.
"I expect to do my best and that's enough for me," Kayse-Hughes said.
Former CTI student and Culinary Institute of America graduate Amanda Scoca came back to Chef Darcy Sala's class to prepare students for the event, as she previously competed in 2017 and 2018. Scoca's advice is to stay calm, have fun and keep organized.
"When you compete, you're nervous, but there's also the bright side of it – you're doing something you love," Scoca said.
Good luck to the students heading to the SkillsUSA Competition!                                           
Annabel Bomba – Cosmetology Senior
Aurora Tompkins – Commercial Baking
Ashley Kayse Hughes – Culinary Arts
Veronica Howard – Carpentry Team Works
Ben Soper – Carpentry Team Works
Gianna Geraci – Photography
Matthew Burris – Welding
Alex Ferris – Carpentry Team Works
Juan Castillo – Carpentry Team Works