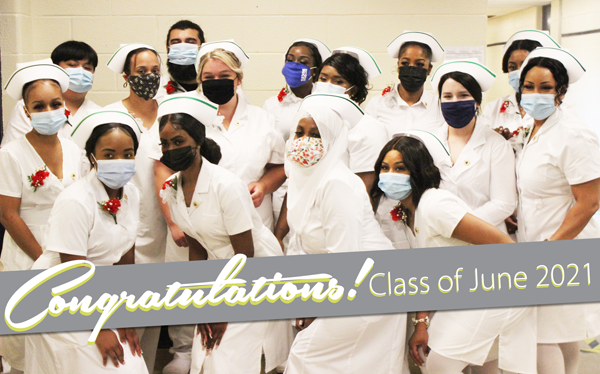 Fifteen students in Dutchess BOCES' School of Practical Nursing graduated in style during an in-person ceremony held Tuesday, June 22 at the Salt Point Center gymnasium.
Social distancing guidelines were adhered to with chairs spread apart, everyone wearing masks and students bringing two guests each. It was also livestreamed.
Between exams, clinical and the COVID-19 pandemic, students persevered through it all. Coordinator of Health Operations Joanne Williams credits them for adding richness and joy to their patients' lives.
"You were exhausted, between your work, family and the school schedule," Williams said. "As classmates you have been through a lifetime of experiences in just a small amount of time."
The Class of 2021 representatives were Ashanda Kaye Wells and Nadine Tamilo, both inductees into the National Technical Honor Society.
Wells and her fellow students realized the seriousness of nursing when they learned about the physiology of the autonomic nervous system, which subconsciously controls responses to many things including stress.
"Nursing school is no joke and not a walk in the park," Wells said. "Challenges is what makes life interesting and overcoming them is what makes life meaningful."
After receiving their diplomas, students, donned in traditional white nurse's uniforms, read the Florence Nightingale Pledge while holding lit candles. When Janice Bradshaw-Harrell's candle burnt out, Williams gave her words of encouragement.
"That's okay Janice, I know you will shine your light on the world," Williams said.
The graduates are now eligible to take the New York State nursing licensure exam.