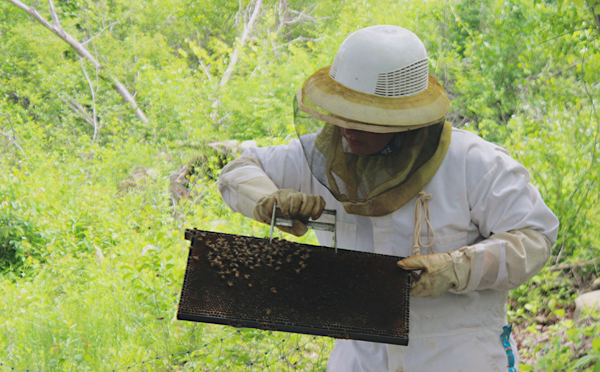 Students in Dutchess BOCES' Plant and Animal Sciences program at the Career Technical Institute began to try their hands at beekeeping this year.
 "It's always been in the back of my mind and the situation just arose where everything was in line," teacher Rebecca Cossa said. "Bees are everywhere."
Bees are low maintenance and do not require daily feeding. Any honey harvested will be bottled and sold as a fundraiser for the program, Cossa said, adding some could be given to the culinary program. Harvesting will occur in either August or September.
"They need to be happy and healthy first," Cossa said of the bees. "We'll leave a certain amount of honey in there that they will eat over the wintertime."
The students are looking forward to getting suited up to look inside the hives in the fall. Cossa praised them for their bravery in setting up the beehives and painting them.
"The students have been tremendous," she said. "I'm very excited about the prospect of where this will go in the future."
Cossa's beekeeping skills came in handy recently when she captured a swarm of the insects nestling on a car outside of CTI. They now reside in one of the hives.
"I brushed them into the box," Cossa explained. "We took about two or three trips to make sure we had as many as we could."
Student Cailin Halladay, of Stissing Mountain School High School, was a little nervous about the project at first, but enjoys the hands-on elements and learning about the insects.  If you want honey and flowers, you have to have bees.  Precautions will be taken to avoid bee stings.
"Bees are super cool to learn about," Halladay said. "This is an experience I never would have gotten unless we had it here."