Dutchess BOCES Center for Educational Equity and Social Justice was one of four school districts statewide selected to present its work on equity to the New York State Board of Regents earlier this month.
The center held its inaugural event, "Designing Equitable Schools: A Youth and Adult Leadership Conference" in May.
Erik Sweet, curriculum and instructional superintendent, for the New York State Education Department was the opening speaker and spent much of the day at the conference, Director of Educational Resources Jenny Schinella said.
"He shared the event with Deputy Commissioner Dr. Kimberly Young Wilkins and they asked us to be one of the four groups," Schinella said.
Chancellor Dr. Lester W. Young, Jr., introduced the presentations from Dutchess BOCES, Greece Central School District, the New York City Department of Education and Eastern-Western Suffolk BOCES by saying the board would have an opportunity to see and hear examples of how the Diversity, Equity and Inclusion initiative adopted by the board was being implemented throughout the state.
Dutchess BOCES Deputy Superintendent Cora Stempel provided a brief overview of how the center came to be and explained its heavy "emphasis on student voice and empowering students to become activists in this."
The center provides a way for students within the county to come together and build a broader community so they can "learn from their peers what is happening in their schools and problem solve," Schinella said.
Dutchess BOCES was the only presentation to include a student, Schinella said. "We thought it was critically important because I think that element is missing from the conversations."
That student was Amya West, a senior from Poughkeepsie High School.
West attended the virtual conference with several other PHS students, her principal, Kelleyann Royce-Giron and teacher Shanna Andrawis. After the conference, West and several students participated in a PHS staff meeting bringing their ideas and voices to the people who could help make changes.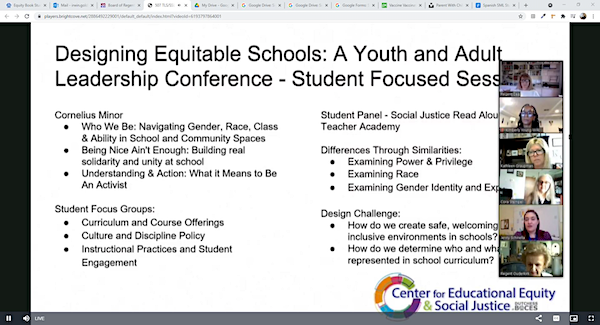 "I really wanted to help my school because I have two brothers who will go there," West said. She said she learned about using her voice to help further not only issues important to her, but those that are important to others.
"Though I'm leaving shortly, I promised I would work alongside them (PHS staff and students) so I can open the door for other students to go and help."
Wilkins thanked West for her presentation.
"Amya, thank you for your inspiring words. You are the reason we get up in the morning."
Schinella said West was picked because of her, "comfort and grace in presenting what can be a real challenging conversation with adults."
After the presentation, Stempel said she thought it went well and that it was clear the board is committed to the work around diversity, equity and inclusion.
Regent Francis Wills emailed District Superintendent Richard Hooley about the presentation. "Please convey to Cora Stempel and Jenny Schinella my personal thanks for their exceptional efforts on behalf of equity and cultural  responsiveness for all students. Their presentation was outstanding. I hope they will also let student Amya West know how moved we were by her reflection," she wrote.
Stempel said the center already has eight or nine districts signed up for services in the coming year. Outside of the center, Dutchess BOCES is offering several summer programs around equity:
"Undoing Racism," a multiday program offered several times
A consultant who will help teachers look at pieces of their curriculum to see if updates or changes are needed
A follow-up to the initial look at curriculum that will go into greater depth if needed.