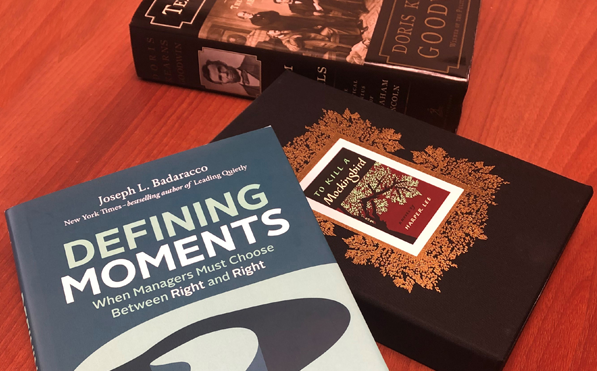 When a superintendent of schools retires, it is an important stage of life, Richard Hooley, Dutchess BOCES' superintendent said. So, when the region had four superintendents retire in the span of about a year, he and the other county superintendents wanted to do something special to honor them.
In the past year, Phil D'Angelo retired from Millbrook Central School District, Paul Finch retired from Red Hook Central School District, Joe Phelan retired from Rhinebeck Central School District and Mark Villanti retired from Spackenkill Union Free School District.
But, COVID-19 prevented any sort of ceremony. Then, Board Clerk Nancy Melilli came up with the perfect solution: Donate a copy of their favorite book with a bookplate honoring them to the library or place of their choice.
"The superintendents can leave a lasting reminder in the library about service to the district and that  is nice," Hooley said.
Each bookplate has the superintendent's name, years of service and school district they served. The books were purchased from Oblong Books in Rhinebeck. Here's what they chose:
Phil D'Angelo: "To Kill a Mockingbird" by Harper Lee. Donated to Millbrook Middle School library.
Paul Finch: "Defining Moments: When Managers Must Choose Between Right and Right" by Joseph Badaracco. Donated to the Red Hook Central School District administrative team.
Joe Phelan: "American Dreamer: Memoirs of a Peace Corps Volunteer in Central America and Beyond" by David Taylor Ives. Donated to Rhinebeck High School library.
Mark Villanti: "Team of Rivals: The Political Genius of Abraham Lincoln" by Doris Kearns Goodwin. Donated to Spackenkill High School library.
Phelan said there was no question in his mind what book to choose. He knows David Taylor Ives personally, having worked with him on many Rotary projects, including traveling to Nicaragua together. 
"I'd like to encourage a better understanding of and encourage people to become more involved in service activities," Phelan said. "All kids should read it to get a better appreciation of serving others, especially in this day and age."
Reading, Phelan said, "opens so many doors for our students to ideas - that is the key."
D'Angelo's choice was spurred by his reading of "To Kill a Mockingbird" in fifth grade.
It was set in a small, rural town in the south and D'Angelo grew up in a small, rural town in western New York.
"It talks about things you go through and when I read it, I felt everybody goes through stuff," he said. "It spoke to me and moved me."
While in Millbrook, D'Angelo developed a visiting author program to bring in at least one author to each school to talk about writing and what inspires them.
"You really can't do anything without reading," D'Angelo said. "You need it to get your driver's license. You need it to do your taxes."
Villanti's book choice speaks very much to the times we are in.
"Lincoln was a hero to many and certainly for me. He exhibited great courage in difficult times. Right now, all leaders need courage and the way to get it is to bring people together with disparate points of view," Villanti said.
He pointed to Lincoln's handling of racial justice. "He had the courage to take bold action with a new amendment in difficult times and I think we can learn a lot from Lincoln," Villanti said, adding that leadership isn't just for superintendent's or people at the top.
Finch selected and donated his book to help guide Red Hook administrators in the decision-making process.  "Defining Moments" includes insights of four philosophers, Aristotle, Machiavelli, Nietzsche, and James, to help leaders resolve issues of conflicting responsibility.
The superintendents, all of whom participated in monthly roundtables hosted by BOCES for superintendents, appreciated the gesture of the donated books. The books and bookplates were paid for through a fund they all contributed to as part of their monthly meetings.