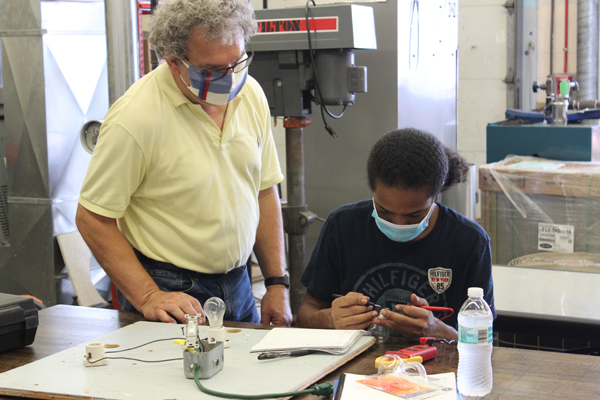 Classes that were put on hold when schools closed their doors in March have returned to the Dutchess BOCES Adult Learning Institute. Students in the Heating Ventilation & Air Conditioning program are back to complete their session.
Nine students in the oil heat class, will now finish in September, Adult Learning Institute Administrator Liz Hayter said. After testing successfully, students receive a certification from the National Oil Heat Research Alliance. The class will next move to the final class of the HVAC program, air conditioning.  When students complete all four courses, they will be ready for good paying jobs in the industry.
"They can take the certification card anywhere and can get a job," Hayter said.
Ten students in the Introduction to Electricity for HVAC course meet Tuesdays and to finish the remaining classes as soon as possible.
"That will get them completed," Hayter said. "They seemed very happy to be back."
These students will then move into the Motors and Controls portion of the program, tentatively set to start in September.  The oil heat technician class then follows. "It takes a year to get through the whole thing," Hayter said of the HVAC program.
Students are required to take a COVID-19 questionnaire prior to class, wear masks, and sit at tables six feet apart, Hayter said. Teachers have found it somewhat difficult as students often work in groups of three on projects.
"We've had to work with the teachers to do lectures and hands-on projects that are safe for the students," Hayter said.
It was business as usual in Al Dimisko's electricity class Thursday night where students worked on circuits. Dimisko said it is great to be back in the classroom and he is hopeful the course will continue without any pauses.
"It's long overdue. Everybody in the class is committed to wearing the masks," he said. "The students have got to move on to the next thing."
For student Martin Wilson, class hasn't changed much other than he and his fellow classmates are wearing masks and being careful when working together on projects.
"As long as we're not touching, it should be fine," Wilson said. "I knew we could be back at some point, but it's good to be back now."
Markese Atkinson is thrilled to be back because he and his fellow students only attended two classes before the pandemic hit in March.
"We didn't start anything, we didn't finish anything," Atkinson said. "To get back to it like we never left, is perfect."
Since Governor Andrew Cuomo recently mandated shopping malls to have an enhanced HVAC system filtration to remove coronavirus, the job market for newly certified students should be robust, according to Hayter.  "They're going to need more of these employees in these businesses faster," she said, adding that they will be deemed essential workers.
 "We're tiptoeing into restarting adult education classes," Hayter said. "We're being very considerate of people's apprehension of coming to school and exposing themselves to other people."