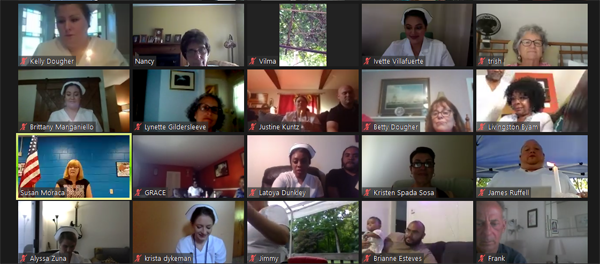 Graduates from the Dutchess BOCES School of Practical Nursing celebrated on Zoom.
The 2020 Dutchess BOCES School of Practical Nursing graduation looked a lot different this year.  It was held virtually via ZOOM for the first time Tuesday, June 23 due to the ongoing COVID-19 pandemic.
Close to 200 participants celebrated the program's 36 graduates, who donned white nursing uniforms typically worn during the ceremony. A slideshow of the graduates was shown before graduation and the chat box was flooded with proud relatives congratulating them.
"This graduation is anything but business as usual," said Joanne Williams, Staff Specialist for Health Occupations, during the ceremony. "I can see all of your beautiful faces; I see you waving."
Student representatives for the Class of 2020 Krista Dykeman, Brittany Manganiello and Nana Ama Marfo spoke.
Dykeman said her father advised her to never to go into the postal service or nursing because they are difficult jobs. She wanted to help others and took up the task in honor of her friend Emily, who died from leukemia.
"I know that we are all up for this challenge and I have seen my classmates balance work, family and the most difficult testing quizzes that I have ever taken," Dykeman said.  "I have no doubt that you will care for others in the most professional way with compassion and therapeutic communication. I am so grateful to have come to know some amazing future nurses."
Students had to expect the unexpected and Manganiello and her fellow students worked together to adjust to the changes.
"Our adaptability has made us better students, but more importantly it has prepared us to be phenomenal nurses," she said. "Every one of you are compassionate, intelligent and more than enough."
Marfo noted their nursing journey has just begun as COVID-19 and protests against racism are occurring worldwide.
"I am confident that we've been trained for such times as this," Marfo said. "There couldn't be a better time to be a nurse."
Dykeman, Marfo and Justine Kuntz were inducted into the National Technical Honor Society.
The graduates are now eligible to take the nursing licensure exam.
Dr. Susan Moraca, Coordinator for Health Occupations, credits the students for rolling with the changes caused by COVID-19, which included completing clinical virtually. "What they were able to do was incredible," she said. 
A highlight of every graduation is the candle lighting ceremony where lights are dimmed and students read the Florence Nightingale Pledge. This year, retiring teacher Nancy Arciuolo read it as the students held their lamps, a symbol of comfort, kindness, gentleness and courage, at home. The graduates recited the pledge while on mute instead of simultaneously due to delay and echoing on ZOOM.
After the Nightingale Pledge, students, staff and relatives shared in some fun as they danced together virtually with Kool & The Gang's "Celebration" playing.

Class photo of the LPN program students before COVID-19 closed school buildings leaving them to finish their program remotely.