Webutuck and Dover students who plan to enter the workforce directly from high school now have help in finding higher-paying jobs and a potential career path, thanks to a new School-to-Work Program run by Dutchess BOCES.  The Berkshire Taconic Community Foundation generously funds the program.
"Many students are not college-bound immediately and are going into minimum-wage jobs without work experience. We want to bypass that to help them get experience and help them generate more sustainable income," said Jennifer Westerville, who coordinates the program. "It's an immersive experience of work-based learning, apprenticeships and internships."
The effort began last summer with Westerville creating links between the schools and the communities. Students have many different interests including the trades, education, medical fields, or others such as law enforcement, she said.  The program will prepare the students for work in those careers and expose them to certificate programs so that if they desire, they can seek more education and take the required tests.
Webutuck senior Amy Hayes sought Westerville's help after she lost her job when the summer ended.  "I love working with kids and if I can teach kids something, that would be great," Hayes said.  Westerville is working to find a match at an early childhood center.  Hayes is happy with the program because things are clearly explained.
Recently, Westerville brought Ryan Parsons, owner of The Brothers that Just Do Gutters, to Webutuck High School to teach a class on resume building and to offer real-world advice to students.
Parsons told them he looks for candidates who are "hungry, hone-able and honorable." He advised students to focus on four areas of their resume: objective, work experience, skills and education.  He encouraged them to list community service, volunteer work and knowledge they have of software and technology.
The Berkshire Taconic Foundation's Northeast Dutchess Fund is committed to students' success in the program. In addition to funding the coordinator slot, it is providing ways for students to gain the knowledge they need for their chosen career path.  The program is part of a larger initiative to reduce poverty in northeastern Dutchess County.
"We are funding internships, a Summer Bridge Academy and transportation," said Maeve O'Dea, program director for the Foundation.  Through the program, students will have access to classes at Dutchess Community College and Dutchess BOCES.
Referrals come from school guidance counselors and Westerville has walk-in appointments available. Six students are enrolled in Webutuck.   Westerville participated in a recent Career Fair in Dover and the effort there is ramping up. Ideally, Westerville would like to have 10 students from each district participating. Next year, the program will roll out to the high schools in Millbrook and Pine Plains.
Currently, students are seniors, though Westerville wants to recruit juniors too, so they can job shadow this year and then move into apprenticeships and internships next year.  Many of the employers are on-board and are willing to hire the students afterward if it suits them both, she said.
Employers will report monthly to Westerville on the students' progress and she will meet with the students and conduct observations at work sites.
For more information about the program, or to become a partner, contact Jennifer Westerville at 845-486-4800 ext. 2011.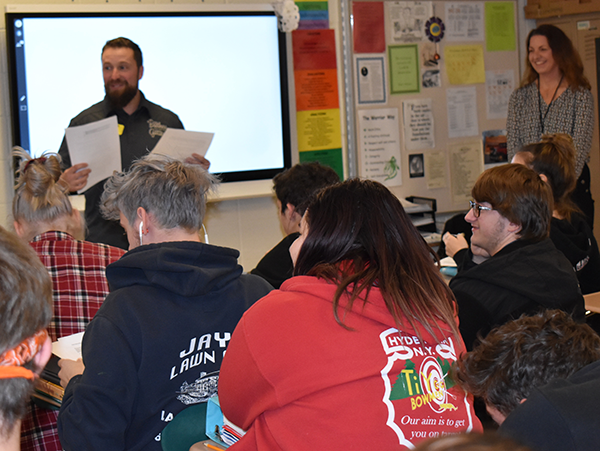 Guest speaker Ryan Parsons offers career advice to Webutuck High School students as Jennifer Westerville, coordinator of the School-to-Work program observes.