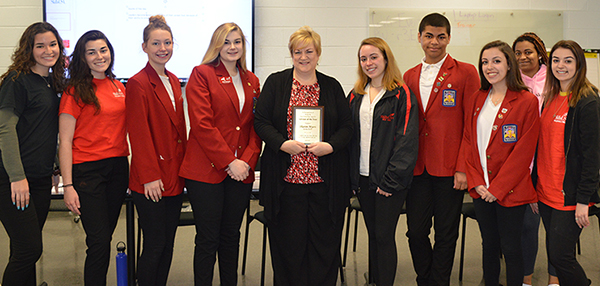 Sharon Myers, a cosmetology teacher at the Dutchess BOCES Career and Technical Institute (CTI), was named SkillsUSA New York State Area IV Advisor of the Year for the 2018-19 academic year at the State Conference on April 24 in Syracuse.
SkillsUSA, is a partnership of students, teachers and industry that promotes and supports maintaining a skilled American workforce through career and technical high school education.
"Mrs. Myers is a strong leader whose heart and soul belong to SkillsUSA," said Annie Davidson, New York State Area IV Vice President and CTI cosmetology student. "Mrs. Myers is a strong advocate for SkillsUSA and woks every day to spread awareness of this organization.  Both her cosmetology students and SkillsUSA members look at her as a role model and mentor.  She sees qualities in them that they may or may not see in themselves and always encourages her students to strive for more, making her an excellent candidate for the Area 4 Advisor of the Year."
Mrs. Myers has been an advisor for 14 years and has previously served as a SkillUSA State Officer.  Under her guidance, large advancements have been made in Area IV.  Congratulations to Mrs. Myers for this well-deserved honor.