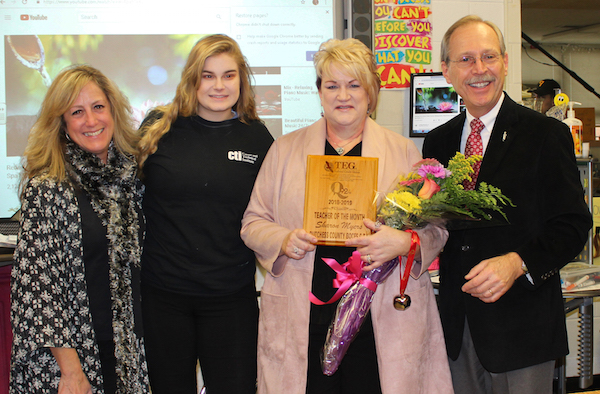 Cosmetology teacher and Skills USA advisor, Sharon Myers, had a surprise visit from Michelle Taylor and Joe Daily of Q92 on November 28 at the Dutchess BOCES Career and Technical Institute.  The morning team visited to present her with Q92's Teacher of the Month award.
One of her students, Annie Davidson, credited her for helping her to become the person she always wanted to be in her nomination letter.  "Mrs. Myers saw something inside of me when I didn't," Annie wrote. "She makes me, as well as all the students in our class, feel as though they can achieve whatever they want in life."  
In addition to a plaque, Mrs. Myers received other gifts, including a $100 gift certificate from Cosimo's in Poughkeepsie and a $100 gift card from TEG Federal Credit Union to use for something special for her class.  
"I started at CTI for my professional training and I am here to pay it forward," said Mrs. Myers. "I am blessed to know that I am at the right time, at the right place, doing the right thing!  Annie is a student who has integrity in her work and goes the extra mile herself!  I thank her and all my students who work diligently to become our future professionals. I am extremely thankful for them and their accomplishments."
TEG Federal Credit Union sponsors the award.
"Who could ask for higher praise or for more happiness than what comes from making a difference in the life of even one young person," said Joe Daily.  Teachers touch the lives of many young people, and we are happy to be able to recognize Mrs. Myers for her from-the-heart service to her students, and by extension, to our community."