Graphic Arts/Design I & II Course Description:
Students enrolled in Graphic Design program will develop skills and workplace competencies while exploring the many facets of communication careers. Students use a hands-on learning approach where the emphasis is placed on problem solving skills, and communication techniques. As part of the graduation requirement, all students develop and create projects that will be part of a portfolio used in seeking employment or college acceptance.
The majority of the work done is project-based. Projects are done both individually and in groups. Each project is presented during group critiques and are used for instructor evaluation of projects.
Students are expected to participate in a the activities throughout the school year, designed to help them experience, reflect on, and develop skills necessary for a career in graphic design. Students will gain leadership qualities, communication skills, feedback techniques, and problem-solving strategies while working in a professional studio setting to solve design problems.
Projects and assignments are given on a regular basis. Students are expected to complete these projects by the deadline dates in order to receive a grade. Assignments include a variety of things such as writing design briefs, researching, brainstorming, creating, scheduling and ultimately completing projects.
This program also incorporates the use of a Career Literary teacher who works closely with students to fulfill high school English requirements utilizing the Graphic Design curriculum.
Students are exposed to real world work situations and/or to those who work in a variety of creative careers. This allows students to see, hear and ask questions about a particular field.
Career Opportunities:

 

Post Secondary Education: College/Technical School
Entry Level Layout Artist
Entry Level Computer Graphic Artist
Entry Level Photographer
Entry Level Graphic Designer
Entry Level Advertising/Marketing Position

 

Units of Study: By utilizing the ADOBE SUITE design software which includes, Photoshop, Illustrator and InDesign, students will learn about:

 

Typography
Branding/Logo Design
Offset Printing Processes
Digital Media
Freelance/Client Responsibilities
Two Dimensional Design Concepts
Package Design

 

Computer Design, Illustration, Layout
Photography
Work-based Projects with Clients
Quick Reference Guide:
Communication Technology Academy: Graphic Arts/Design I & II

Approved for Technical Endorsement on Regents Diploma
Yes, eligible on completion of two years
Credits for Two Year Program
8 units for two years, 4 units for one year
Integrated Academic Credits
English - 1 credit over two years
Specialized Academic Credits
None
National Competency Exam
NOCTI – Visual Communications & Multi-Media Design
Work Based Learning Experience
Internships with local businesses
Articulations

Dutchess Community College

ART 140 Graphic Design I, based on instructor reccomendation, 3.5 GPA or higher and DCC portfolio review.

Prerequisite
General academic, good computer skills
Pull-Out Academics Available
 MST
Articulation Agreements:
Dutchess Community College – ART 140 Graphic Design I, based on instructor reccomendation, 3.5 GPA or higher and DCC portfolio review.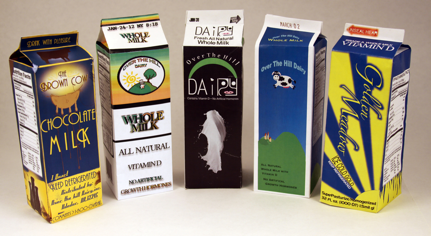 PACKAGE DESIGN PROJECT
2nd year students were asked to design, layout, cut and fold a milk carton. They were given parameters such as the information needed on the carton. The designed a look for a diary company and had to include information, such as, type of product, nutrition facts and fluid size. They used their design knowledge and Photoshop to create their layouts.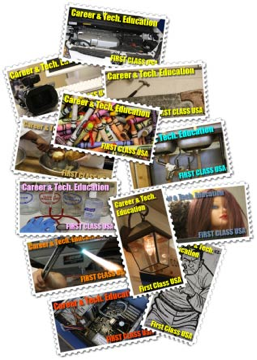 POSTAGE STAMP PROJECT
1st year students were asked to create a set of postage stamps that maintained a similar theme and look. Students attempted to capture the spirit of Career and Technical Education by depicting various arrears of study. The challenge for this project was designing an effective visual and typographic solution in a very small area.
CLASS MAGAZINE/COMIC BOOK PROJECT
Students were asked the design and layout a magazine spread the size of a comic book that showcases their best work for the year. In conjunction with their Career Literacy requirements, students wrote an article about their "style" in third person, which included their inspirations and things they learned throughout the year. A handful of final copies were produced and distributed to each student.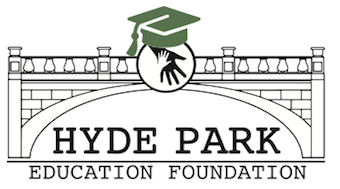 WORK BASED LEARNING PROJECT
Students were asked the design a logo for the Hyde Park Educational Foundation. They worked collaboratively to incorporate type, visual elements and abstract ideas into a final logo that the client is currently using for their foundation. Work-based credit hours were awarded that can can used toward a CDOS credential.