Automotive Mechanics I & II
 
­About the Program: Students work with highly skilled ASE Certified instructors to learn repair techniques on foreign and domestic cars and light trucks using the latest techniques and computerized diagnostic equipment. Throughout the rigorous two-year program, students will learn to diagnose and repair various vehicle systems, work on real cars with state-of-the-art electronic testing equipment in a modern service and repair facility.  Students gain daily practical experience working on vehicles provided by Dutchess BOCES students and faculty. Selected students may be eligible for internship experience at local repair facilities in the second year of the program. Successful completion of this program ensures your readiness for entry-level employment in the automotive industry.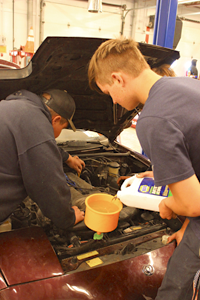 Employment Opportunities:

Quick service facility
Independent repair facility
New car dealership
Service writer
Auto parts specialist

 
 

 
 

Units of Study:

Shop and Personal Safety
Positive Work Habits
Business Ethics
Engine Repair
Lubrication and Cooling Systems
Automatic Transmissions
Manual Drive Trains and Axles
Steering System
Suspension System

 

Wheel Alignment
Tires and Wheels
Brake System
Electrical & Electronic systems
Starting & Charging Systems
Heating, Ventilation and Air Conditioning (HVAC) System
Fuel System
Induction system
Emissions System

 
 
Program Goal: The focus of our program is to prepare our students for either immediate successful employment in the automotive industry or provide a strong foundation for continued technical education at a post-secondary level.
Required Supplies:
Binder for notes
Uniform two piece or coveralls Navy blue
Work boots
Safety glasses (1st pair provided by school lost or damaged safety glasses to be provided by student)
Uniforms work boots and safety glasses are required at all times while in class.
Quick Reference Guide: Automotive Trades: Auto Mechanics

Approved for Technical Endorsement on Regents Diploma
Yes, eligible on completion of two years
Credits for Two Year Program
8 units for two years, 4 units for one year
Integrated Academic Credits

English - 1 credit over two years

Mathematics-1 credit over two years

Specialized Academic Credits
None
National Competency Exam
NOCTI – Auto Mechanics • Precision- Automotive Service Fundamentals
Work Based Learning Experience
Internships with local businesses
Articulations
SUNY Morrisville, SUNY Canton, Ohio Technical Institute
Prerequisite
General academic foundation
Pull-Out Academics Available
 MST