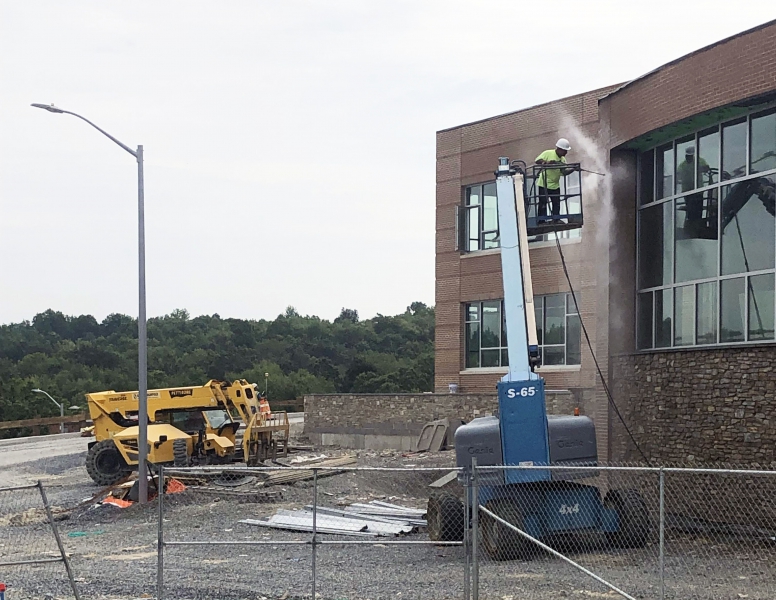 Project Manager Tom Chesser, from The Palombo Group, and Brian Mangan from K, G & D Architects updated the Dutchess BOCES Board of Trustees on the progress of the capital project during its July 6 meeting.
Sidewalks and guard rails have been installed, stairs have been poured, and piping for the HVAC equipment is being completed.  While those changes are easily seen, behind the scenes the interior of the new building is also a very busy place.  Paint is going up on walls, tiles down on floors, and fixtures are being installed in the future home of the Alternative High School.
Chesser told the Board about visits he made to the construction site with students from the Career and Technical Institute.  Construction Trade, Electrical, and Welding students were impressed to see the different stages of the work in progress and they asked a lot of questions.
"Kids need to hear from the real world, not just their teachers," Chesser said.  "It was good for them to see the options for their futures.  They were overwhelmingly impressed by the kind of money that can be made when they saw the union wage sheets."
Some masonry workers on the capital project were pulled out of retirement for the job, Chesser said. "Some of them called the kids over and told them to graduate because the jobs are there right now for them to walk into.  Union halls are having a hard time finding replacements," he said.  "There's good money to be made in the trades."