Mrs. Moloney's Class
1-8-1 Life Skills Program @ Arlington High School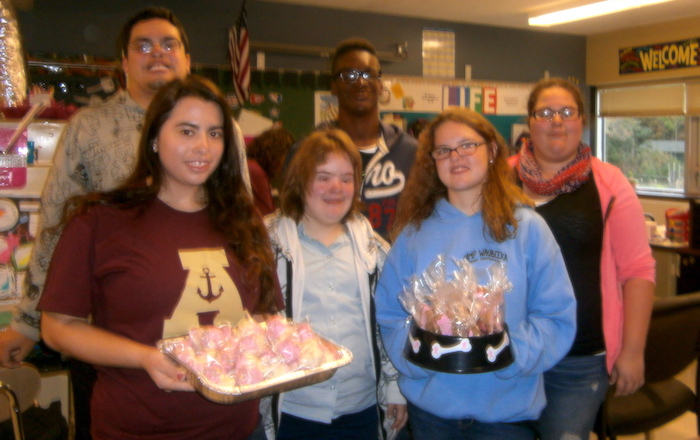 The Life Skills class has been created to teach Special Needs students working towards their SACS or CDOS credentials the job of daily life and living within their community. Students in this classroom have multiple disabilities and are qualified for the New York State Alternate Assessment. Academics are addressed in a self-contained classroom as per the students IEP. Academics are generally focused on functional skills such as time and money skills, measurement, survival words, and work place vocabulary. Related Services and accommodations are provided as per individual IEP's.
 The ultimate goal for each student in the Life Skills class is the successful application of daily living skills and work skills in his or her community. Instruction is provided in the areas of:
Interpersonal skills: social awareness, disability awareness, self advocacy, interpersonal communication, responsibility/dependability, conflict resolution, decision making, self esteem, and self confidence
Independent living skills:  money management, household management, childcare, clothing care, food preparation, time management,  personal health care, leisure skills, responsible citizenship
Pre-employment skills:  basic work behaviors, attitudes and habits, job seeking skills, basic customer service and effective communication with others, vocational exploration, workplace literacy
Mrs. Moloney provides both individual and small group instruction. Hands on opportunities for learning are an essential part of each student's day. Students are also given opportunities to use their skills out in the community by visiting local businesses, as well as participating in community based class trips and volunteer experiences. Students have opportunities to participate in the BOCES Work Program as recommended by their home districts through their IEP. The work program teaches many valuable job skills by going out into "the world of work" with a job coach part-time. Our goal is to utilize each student's interests and/or capabilities to assist them in finding where they may fit most comfortably in the adult work world after graduation.