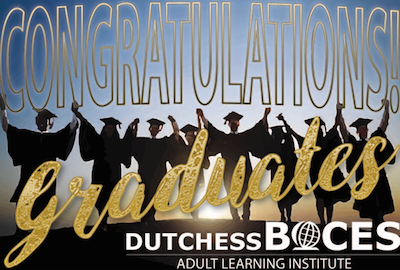 Congratulations to the new graduates who were honored October 19th for earning their high school equivalency diplomas while studying at the Dutchess BOCES Adult Learning Institute (ALI).  The graduates were celebrated at a ceremony held at the Cunneen-Hackett Arts Center in Poughkeepsie.
Graduate Jessica Krainski said she was determined to succeed despite being told by others that it was never going to happen.  She encouraged everyone to choose success and to always keep working toward his or her goals.
On hand to congratulate the students for their achievement were Dutchess BOCES Deputy Superintendent Cora Stempel, Assistant Superintendent Dr. Sherre Wesley, and New York State Senator Sue Serino.
2017 High School Equivalency Graduates
Raquel Antonio, Edith Beck, Ardene Brown, Tashauna Cotterel, Rene Duncumbe, Harry Foley, Jessica Krainski, Ashlyn Hart, Patrick Hazel, Crystal Jones-Royal, Kelly Krajewski, Anna-Kay Linton, Troy Majette, Ashley Miano, Kasandra Miranda, Margarita Santiago, Karina Santos-Hernandez, Nicole Sheroh, Lamar Shuler, Jessica Anne Smith, Ashley Tolentino, and April Zeigler.